How much, on average, does it cost to build a house in 2021?
In Australia today, how much can you expect to spend when building a house?
If you're dreaming of building a new home, you may be wondering how recent events have impacted house construction prices including builder's costs and stamp duty fees. Without sounding trite, the answer to this could be summed up with that frustrating yet often accurate phrase: How long is a piece of string?
There are a number of different factors that can impact the cost of building a house, including but not limited to:
The size of the dwelling
The location and availability of resources the slope of the land
The quality of the fixtures and fittings
With this in mind, there are some "ballpark figures" I can come up with, to give you a guide as to how much it may cost you to build a property.
But before I do, let's look at…

1. How COVID-19 has impacted costs when building a house?
While it's hard to be clear exactly how much COVID-19 has impacted costs when building a house, it's fair to say that with so many changes, border closures and restrictions it has changed the landscape.
Thanks to volatile exchange rates, supply chains being impacted and reduced productivity due to COVID-19 restrictions, costs have risen and the time to complete projects has dragged out pushing up the cost of construction.
The shortage of materials and labour are likely to significantly increase housing construction costs over the next couple of years.
Believe it or not, despite all the trees we have in Australia, prior to Covid 19 roughly 20% of Australia's structural timber came from abroad, mostly from Europe.
Timber prices have risen 30 to 40% over the last few months and this is a phenomenal we are seeing around the world.
The boom in residential construction here during the COVID-19 pandemic had coincided with a surge in construction in major overseas markets like the U.S. and Canada, meaning overseas suppliers had been unable to meet this shortfall during the pandemic.
However the worst of Australia's timber shortage has already passed, with a dive in overseas timber prices, better planning from builders and new support from the federal government likely to lead to reduced timeframes on residential projects according to a housing industry economist.
Angela Lillicrap, an economist at the Housing Industry Association (HIA), said that while it would take some time for the supply chain to fully correct, a fall in timber prices overseas would eventually be felt in the domestic market.
"It's just going to be a matter of time until we've resolved this, so we're definitely past the peak of it. It's not going to get any worse, we've seen timber prices in the U.S. and Canada come off quite rapidly so it's only a matter of time before that extra timber supply that comes from there comes over here [to Australia],"
– Angela Lillicrap.
Recently the federal government committed $15 million to transport bushfire-affected timber from Kangaroo Island to mainland timber mills, heralded as a major step in solving the timber shortage.
Apparently this timber could be used to support the construction of up to 10,000 homes,although it will take years for all of the timber to be transported off the island.
2. What the recent government stimulus has done to building costs?
HomeBuilder and other state-based programs have provided extensive support to the housing sector, particularly for detached housing as opposed to apartments.
With new contracts now no longer eligible for the HomeBuilder scheme, it is conceivable that the level of dwelling approvals will soften (possibly sharply) from here.
However, since June 2020, 114,000 private detached houses have been approved, the highest number of approvals over a 10 month period since 1989.
These record house building approvals driven by the government's HomeBuilder program have sparked shortages of key tradespeople and helped push the price of materials up by as much as 50 per cent.
As the Australian Bureau of Statistics reported the number of approvals to construct new houses jumped 20 per cent to a record 13,939 in February, the Master Builders Association said building sites faced delays of up to three weeks to get tradies.
Home building is at six-year highs, but this building boom has created major challenges in the supply chains with builders meaning some projects can't start on time, hitting customers with significant delays and pushing up the price of materials.
And disruptions to international supply chains are only making matters worse.
However, a range of other factors are also playing a role in increasing building costs including:
Rising shipping costs for materials from overseas due to a shortage of empty containers because of Covid-19,
Rising labour costs due to a shortage of skilled labour,
Record low interest rates and a national housing shortage causing an unprecedented demand for new housing stock across the country.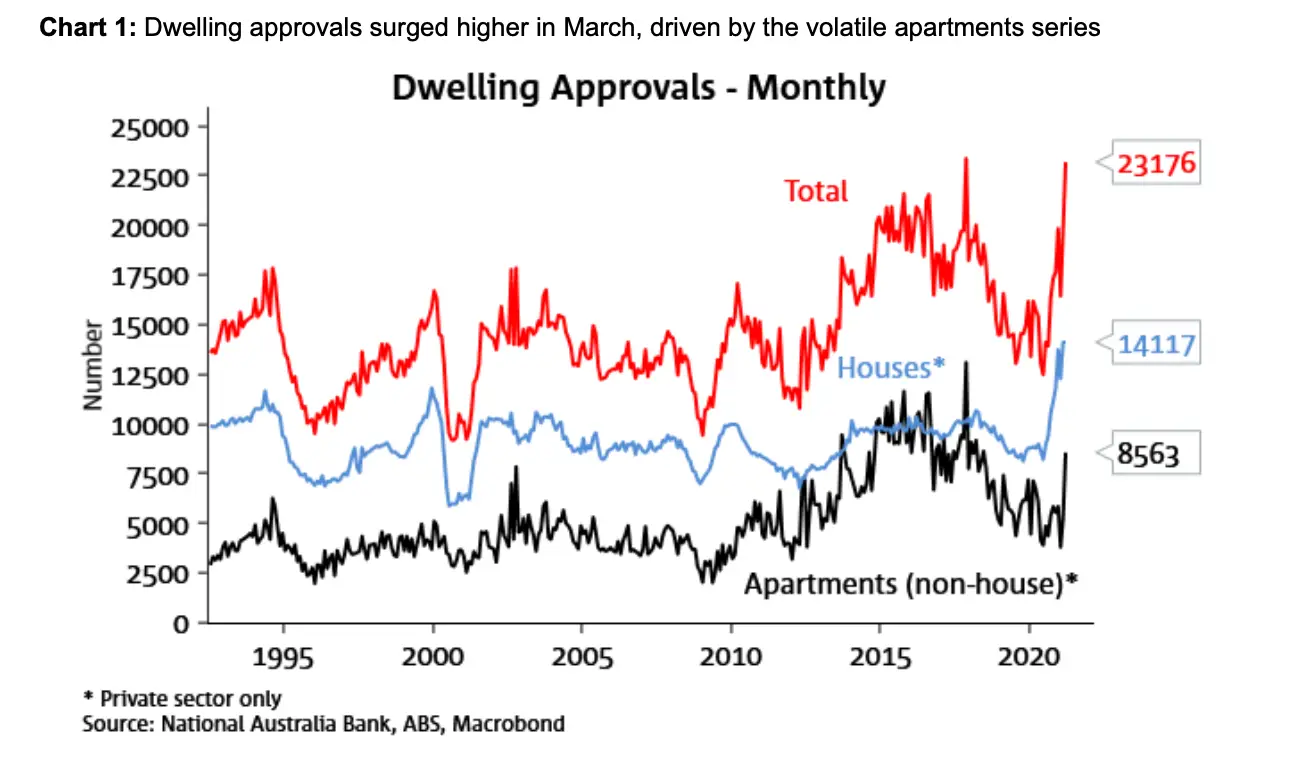 Although HomeBuilder has now been phased out at the end of March 2021, it's highly likely we will see a continuation in this trend towards higher residential construction costs as it will take some time for builders to work through the surging pipeline of house approvals.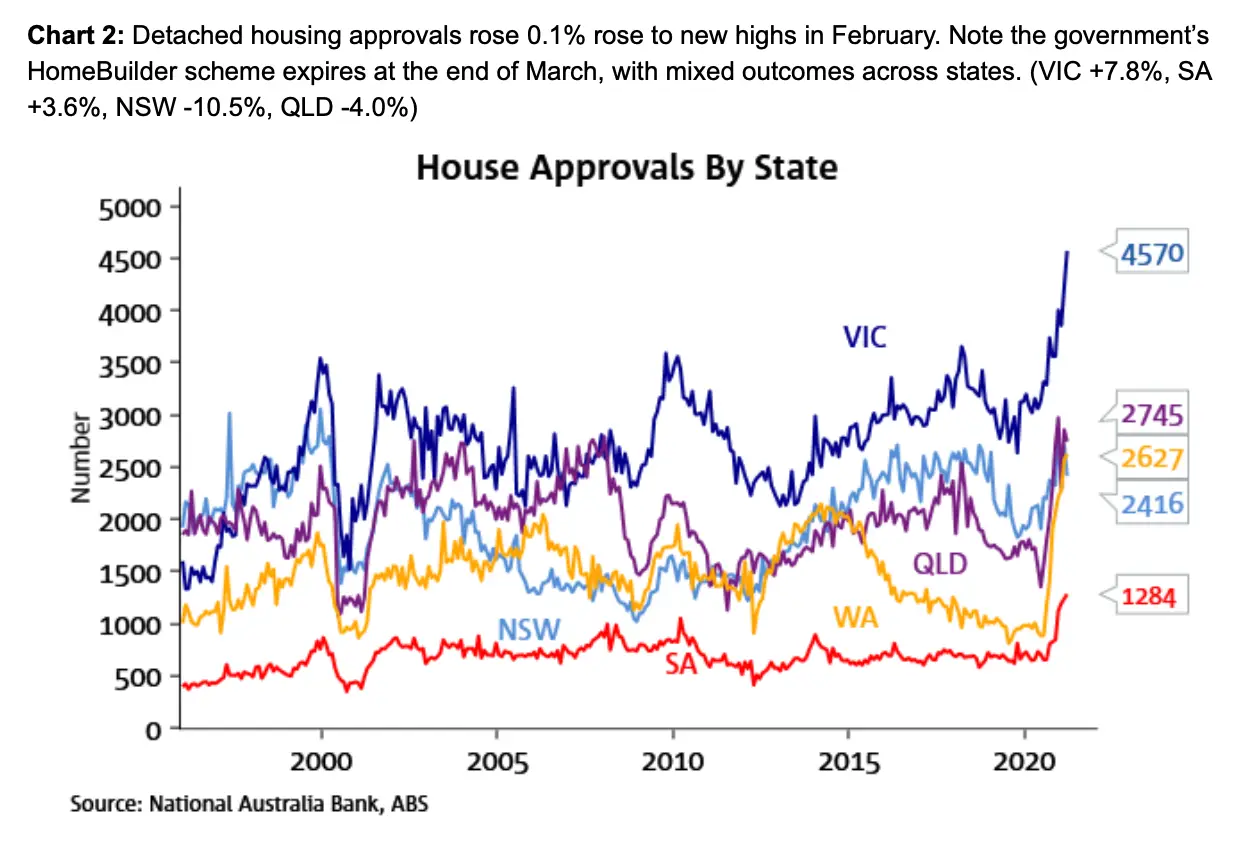 3. Housing construction costs rose 0.8% over the March quarter
Building costs across all major Australian markets are growing faster than inflation – a trend that looks set to continue for years due to construction demand outstripping supply for both labor and materials.
Disruptions caused by COVID-19 are largely to blame with global supply chain issues negatively impacting both material delivery and pricing, while state and international border closures have led to intractable labor shortages.
The Cordell Housing Index Price (CHIP) which measures the rate of change of construction costs within the residential market and covers freestanding and semi-detached single and two store dwellings rose by 0.8% over the three months to March 2021, making it the sixth consecutive quarter where costs have risen by 1.0% or less.
The first index for 2021 showed national residential construction costs rose 3.3% annually. Meanwhile, figures show the consumer price index (CPI) increased by 1.1% over the year to March 2021.
According to seasonally adjusted ABS figures, the total number of dwellings approved rose by 17.4% in March after February saw the total number of dwellings approved surge by 20.1%.
Employment in the construction industry, which accounts for around 8.9% of the total workforce, fell -1.5% over the three months to March 2021.
Tim Lawless, research director at CoreLogic, says "With dwelling approvals surging in response to the recently expired HomeBuilder grant, the residential construction sector is moving into what is likely to be an extended period of activity, however we are yet to see Cordell's measure of construction costs reflect any material increase.
"Construction costs were up 0.8% over the March quarter, slightly below the decade average rate of growth and with little in the way of variation across the states.
"Although construction costs rose at a slightly slower than average pace last quarter, it's likely future quarters will record a more substantial lift in construction costs as shortages of both materials and labour add some upwards pressure on prices,"
says Mr Lawless
The following chart shows the categories measured within the CHIP index.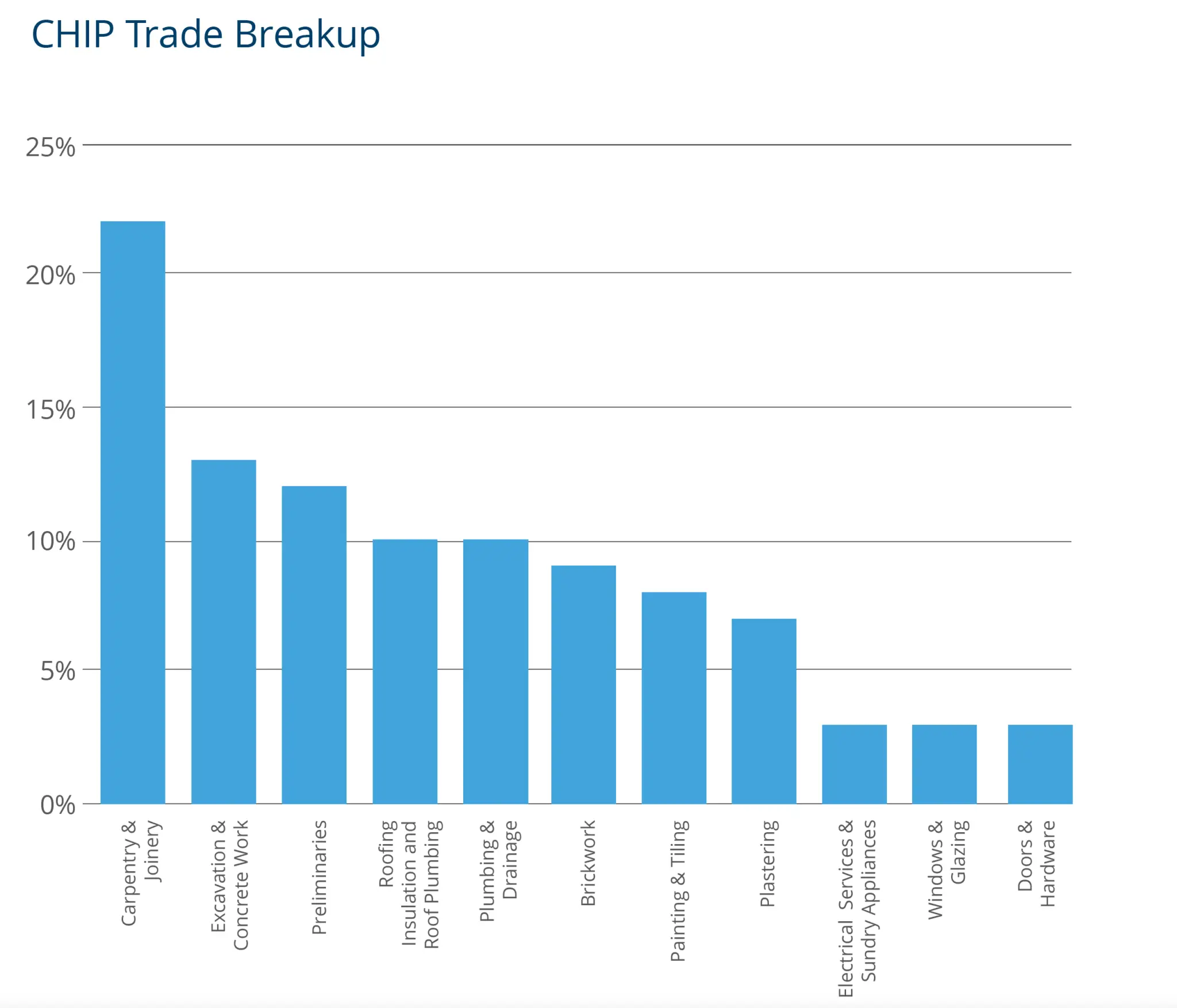 Key findings – Q1 2021 CHIP Report
The New South Wales CHIP index remained flat quarter on quarter, with 0.7% growth in the first three months of the year, bringing annual growth slightly lower to 2.9%.
Victoria's CHIP index grew 0.8% over the March quarter, slightly up on the 0.6% growth over the previous quarter. Annual growth was 3.4%, slightly higher than the national growth rate.
Queensland's quarterly CHIP index growth dropped from 1.8% in the three months to December to 0.8% in the three months to March, bringing it back in line with the national growth rate.
South Australia's CHIP index increased by 0.8% over the March quarter. Annual growth remained the lowest of all states at 2.8%.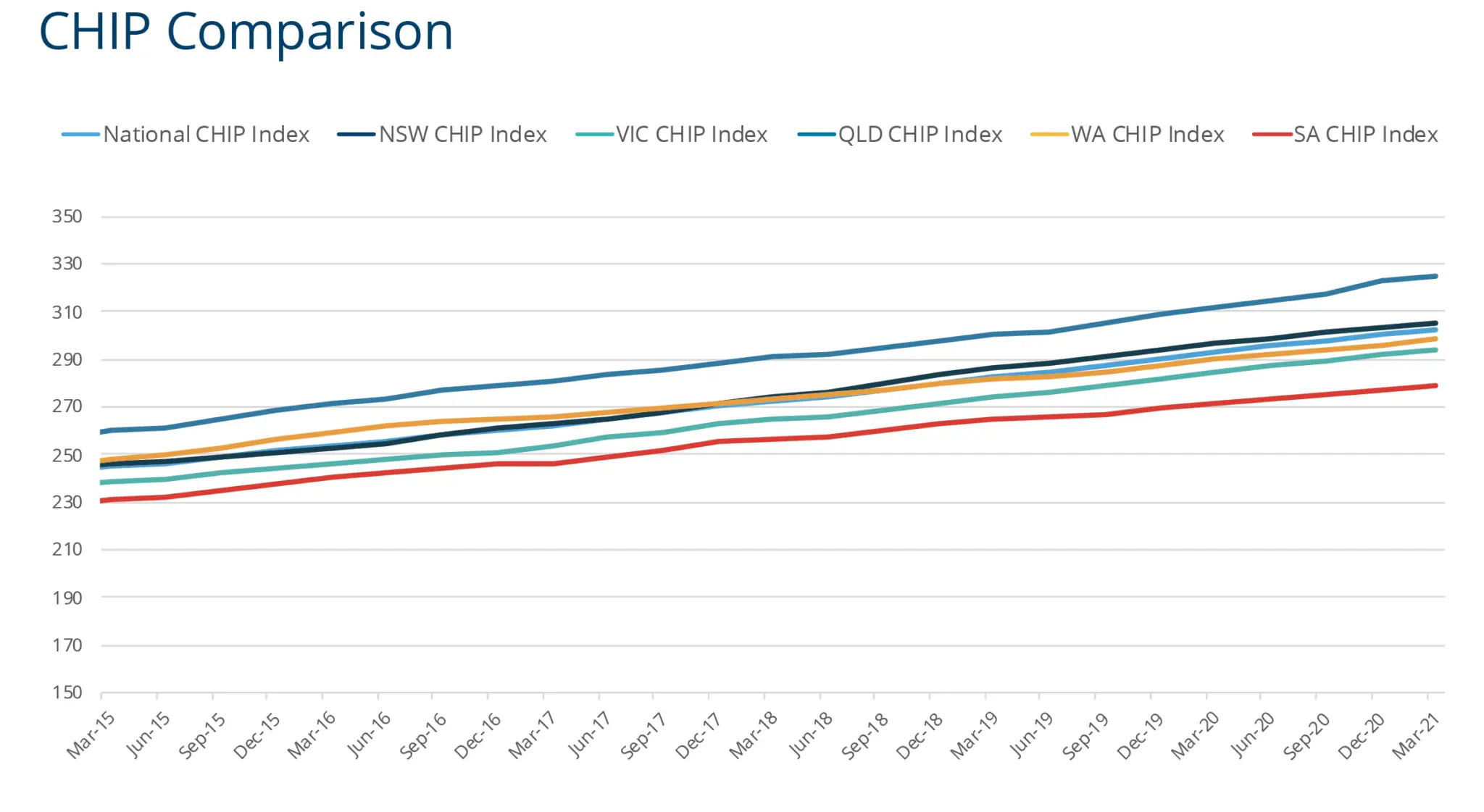 What's ahead?
The 12th International Construction Market Survey from Turner & Townsend reveals that government money and low interest rates are fuelling a global construction boom.
Sydney remains the most expensive place to build in Australia. The report predicts the Sydney, Perth and Brisbane markets will experience annual construction cost hikes of more than 3 per cent up to the end of 2023.
More modest yearly increases of 2.5 per cent are expected in Melbourne and Adelaide. According to the report, the average cost to build in Sydney is $2640/sqm and is interestingly less than half the rate of Tokyo, the most costly city in which to undertake construction at $5465/sqm, followed by Hong Kong ($5317/sqm) and San Francisco ($5080).
Melbourne building costs are $2576/sqm, followed by Brisbane ($2448/sqm), Perth ($2142/sqm) and Adelaide ($2070/sqm).
4. So how much can you expect to pay?

First up, let's get one thing clear: the base price that builders advertise on billboards and display on their websites are generally only a starting point, and do not reflect how much your home will actually cost when it's 100% completed.
This is because these "starting from" prices usually only include the basics.
If you are looking for a complete price that includes everything from the carpeting through to the landscaping and driveways as well as the white picket fence at the front, then you need to shop around for what's known as a "turn-key" package – which means all you need to do at the end is turn the key and step inside.
The cost of building a house varies widely, particularly depending on where in Australia you are planning to build. And as mentioned, the size of the property and the quality of the finishes will impact the final price, too.
According to ABS December 2019 Buildings Approvals data the Australian average was $1393.55 per sqm. However, this figure doesn't include design, planning permits, any site works or any cost blow-outs. With the average dwelling in Australia being 229.8sqm, this puts the cost for the build portion alone at $320,238.
Look at the guideline below, according to BuildSearch.
Average costs to build a new project home

| City | Basic Finish $ /Sqm | Medium Finish $ /Sqm | Luxury Custom $ /Sqm |
| --- | --- | --- | --- |
| Adelaide | $1200 | $1430 | $2750 |
| Brisbane | $1410 | $1590 | $3000 |
| Melbourne | $1380 | $1630 | $2900 |
| Perth | $1250 | $1700 | $2900 |
| Sydney | $1390 | $1690 | $3100 |

Obviously one can't really compare the cost of an architectural designed home to one built by volume builder for his little $1600 per square meter.

For a very high-end home with custom-designed finishes and tailored design, you can expect to pay much more – anything from $3,000 to $5,000 per square meter and up.

Calculating the average price to build a house in Australia

It's all well and good to get a 'per square metre' indication of price – but how do you translate that into actual costs, to give you an understanding of how much you're going to pay to construct your new home or investment property?

There's no point in going to the bank and saying, "I need to borrow $1190 per square metre"; they're going to need a little more info to go on than that!

To help you understand the full costs of building a house, we've run the numbers on a standard home build of around 150-170m2.

Based on this sizing, if you wish to build a three- or four-bedroom home with one or two bathrooms, prices typically start as follows:

A budget-style, basic home:

From $160,000 for a 3-bedroom home and from $190,000 for a 4-bedroom home. For a turnkey package, add approximately $18-20,000.

A standard home:

From $180,000 for a 3-bedroom home and from $200,000 for a 4-bedroom home. For a turnkey package, add approximately $20-22,000.

A premium, higher end home:

From $200,000 for a 3-bedroom home and from $220,000 for a 4-bedroom home. For a turnkey package, add approximately $22-25,000.

Adding an additional story can add around $80-100,000 to the cost of construction.

Learning the lingo:

When you go through the process of building a home, you'll come across plenty of industry jargon that can be tricky to understand – and even trickier to price.

Here are a couple of terms that may be included in your building contract, which are important to understand:


Provisional Sums

A provisional sum is an estimated amount of money that is determined by the builder, according to how much they believe the relevant job or material will cost.

Often the builder can't put a fixed cost on certain parts of the job at the time of providing a quote or signing the building contract because of unknowns.

For example, while your site may look flat and the builder quotes as such, when staring the works, they may discover large clumps of rock that need to be removed and levelled prior to the slab being laid.

Or when the builder starts digging your foundations they realise they have to dig down further to hit firm footings, which will eventually require more concrete to be poured.

At times like this you'll need to pay an additional sum on top of the initial contract price, as the allowance that had been provided has been exceeded.

Note: It is always a good idea to budget for around 10% of the total build price to allow for fluctuations in provisional sum prices.

Prime Costs

A prime cost is an item that is subject to change during the construction of your home.

These include things like fixtures and fittings such as tiles, doors and taps, as these items may change depending on your final choice.

You'll find an estimated amount is provided when signing the building contract, and then depending on your specification of the finishes during the build, these prime costs items may cost more or less if you elect to change them along the way.

Note: these items generally only change due to your change in preferences, so this could be an opportunity to trim costs if you opt for basic or standard fixtures, fittings and finishes.
5. What other costs can you expect to pay when building a house?
As mentioned earlier, there are a number of costs that come into play when building a house.
For a standard brick home without any custom finishes, you may be able to come up with a fairly clear budget.
However, once you start factoring in extras such as landscaping, driveways, retaining walls, fences and upgrades finishes and fittings, your costs can increase significantly.
These are some of the additional expenses to look out for may include:
Site Costs

These are the expenses that are incurred to prepare your block of land before construction can even commence.

These are usually completed by your builder and in most cases, the site costs are charged on top of the build price.

Site costs for an average block of land can hover around the $15,000 to $25,000 mark, however again, the location, size and slope of the block of land can have a substantial impact on the final charges.

Some of the typical expenses involved in a site cost can be:
Connections to services such as water, sewer, electricity and gas
Fences
Retaining walls
Site clearance (trees, roots, bushes)
Site survey
Soil tests
Other factors that can impact price
Once you have signed a contract with a builder and decided up the layout and design of your property, they will make plans and prepare documents, before arranging a 'pre start meeting'.
The pre-start meeting is at the stage at which your house plans are finalised.
They are approved by council and you are ready to make your final choices in regards to all of the design aspects, such as wall colours, the types of light fittings and the materials used on the roof and on floors.
The 'prime costs' are generally already in place by the builder, however keep in mind that in base contract packages, the prices factored in often account for the cheapest materials, the most basic fittings and the most standard fixtures.
If you wish to change any of these, you could incur an extra cost.
Some of the parts of the home that you may wish to 'upgrade' during this process include:
Roof: depending on the materials you choose for your roof, such as tiles or colorbond, this can vary widely
Tiling: an allowance for a tiling amount per sqm will be made, but this can change depending on the quality and size of your final choice.
Fixtures and fittings: fancy, nonstandard taps and European appliances will obviously cost more than standard Australian-made fixtures and fittings. Additionally, labour costs may increase if you select items that are more complicated to install. Inclusions such as fully ducted air conditioning can cost up to $10,000 (more for two-storey home).
Kitchen: If you've ever shopped for a kitchen benchtop, you know how widely costs of a kitchen upgrade can vary. Again, the final price will depend on the quality of the item you choose and what is in your initial specification in the contract.
Electrical: If you decide to change your lighting layout from what has been initially drawn, this can add costs. For example, if the specifications in your contract allow for one standard light per room but you wish to have multiple downlights, this extra cost can add up.
Extra costs you should allow for
Some extra costs you need to take into account and which could end up costing you a significant amount of money include:
Soil Quality –One of the first things your engineers will organise is a soil test. They do this by drilling some bore holes and the best classification you can get is M classification soil. If your soil is more difficult to work with eg. Clay, Sand or Rock then you're likely to have to pay extra.
Slope of the block– The easiest site to build on is a flat block. If your block slopes you're likely to have to pay extra for more foundations, or to cut and fill the site (make it flat) and possibly for retaining walls.
Flood prone areas – some sites require the house to be raised with the floor level above natural ground level to cope with excessive rain or floods and this can add to the construction cost.
6. Contract variations
The final thing can impact your build price is variations, which are changes to the contract which are made after you have signed it.
The good news is, there is often an opportunity to change your mind as the build progresses if you really want to; perhaps you've been thinking about that glass splashback in the kitchen and decided it's really not a good idea.
The bad news is, it will cost you!
Variation costs are costs you want to avoid where possible, as builders usually have a mark-up of about 20%-25% on variations.
On top of this, builders usually charge a variation fee of $250 each. These fees should be set out in your contract.
7. What's the average time to construct a home in Australia?
There are too many variables associated with the time it takes to construct a house in Australia, making it virtually impossible to give an accurate time frame to build a house.
One off custom-built homes take longer to build the turnkey display homes which can often be build in 6 months.
And currently there are the ongoing construction delays associated with COVID-19, only adding to the time taken to build a house.
Then, there are the unforeseen hurdles that always seem to arise when building – things like unfavourable soil conditions such as rock removal, or bad weather or waiting for certain permits or approvals.
Having said all of that, the average time to build a two-storey house is roughly 10 -12 months.
8. In conclusion
While the cost of building to build home has clearly increased, the price of purchasing an established home in Australia has skyrocketed, with the value of many homes increasing by more than 20% this year alone.
The average cost of building a house varies due to a range of factors, including size, location and quality of fixtures and fittings.
While I've tried to give you estimates the final price will depend on whether you chose a display home which the builder has designed with cost efficiency in mind, or a unique home- your own special castle which has never been built before.
By: Bryce Yardney